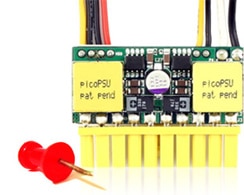 Click to enlarge Due to ultra-compact design (picoPSU is world's smallest mini-ITXC PC power supply), our mini DC-DC ATX PSUs plug directly into the motherboard's 20 or 24 pin ATX power supply connector, eliminating the need of a ATX extension cable harness. Power an entire range of motherboards, starting from VIA mini-ITX boards all the way up to Pentium / Celeron, Core Duo or AMD small form factor or fanless PC systems.

If looking for a high efficiency power supply to power a PC (car PC) in a car or vehicle or battery solar use, look at our M-series small ATX PSUs, designed to work in car environment with voltage ranging from 6-32V.

All our DC-DC ATX small form factor fanless ATX PC power supplies and car PC power supplies are designed and manufactured by us and they are protected by several US and International Patents. Manufacturers, resellers and OEMs, please contact us for volume discounts.

picoPSU product line is protected by multiple US and International Patents.
Also please read our counterfeit products alert statement. Thank you!

Our power supplies product list