2.5" Solid State Hybrid Hard Drives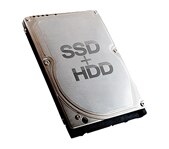 Solid State Hybrid Drives (SSHD)

combine a blazing speed with generous amount of NAND flash SSD technology (8GB) and the ability to have massive HDD storage capacity into a single drive, at lower cost - which traditional SSDs cannot.

SSHD outperforms standard HDDs with speed, while maintaining lower costs and higher capacity than standard SSDs. Best of both worlds!!


Solid State Hybrid Hard Drive list