picoPSU - Power Supplies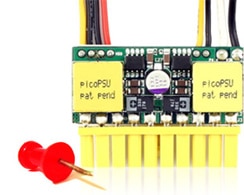 Ideal power for small form factor boards (mini-ITX, nano-ITX, etc). Small form factor computers (mini-ITX PCs, car PC, appliances) start with smallest, 100% silent fanless switching DC-DC ATX PC mini power supplies (PSU).
Select from a range of high efficiency plug-in small PC power supplies modules in a variety of power outputs, footprints and input voltage ranges such as 12V DC, wide input 6-24V DC for car PC and solar or battery use, with all necessary ATX outputs (3.3V, 5V, 12V, -12V, 5VSB) and ATX signaling (PS_ON, PWR_OK, etc).
All our DC-DC ATX small form factor fanless ATX PC power supplies and car PC power supplies are designed and manufactured by us. Manufacturers, resellers and OEMs, please contact us for volume discounts.
Also please read our counterfeit products alert statement. Thank you!