M350 enclosure with PicoPSU-80 and 60W adapter

The kit includes: M350 mini-itx enclosure, PicoPSU-80 12V DC-DC ATX power supply, smallest DC-DC ATX PSU, 60w (12V/5A) AC-DC Power Adapter with power cord

Zero noise, small footprint and low power
The M350 is Industry's smallest universal case (192 x 210 x 62mm , 2.5L) capable of housing mini-ITX boards ranging from tiny Atoms to fully featured desktop or mobile CPUs. The M350 chassis permits fanless operation (natural air convection via hundreds of tiny holes) for TDP < 10 watts and CPU-only fan for TDP <= 65watts.




Equipped with hidden (but not shielded) USB docking station for WIFI / 3G / Bluetooth or simply USB flash booting, the M350 is the only enclosure that provides such innovative USB, radio friendly, expansion methods. For internal miniPCI cards or modules, and high gain SMA antenna option is provided on the back of the case.





Multiple bracket options:



Multiple Mounting Options:
The M350 enclosure features multiple mounting options, making it ideal for industrial applications.
Mounting options include:

- Vesa mounting (attach in the back of a monitor)
- DIN-RAIL mounting (vertical and horizontal)
- Wall mount brackets
- Rubber feet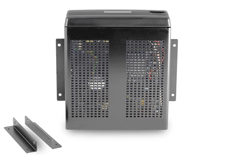 Smart Power Button:
The M350 power button can be disabled by means of removing a jumper, thus preventing accidental ON/OFF actions. An additional jumper activates an "always ON after power loss' automatic pulse generator that will startup your motherbaord every time power is applied, regardless of BIOS setting!

The PicoPSU-80 is the smallest plug-in 12V ATX dc-dc power supply. The PicoPSU is compatible with an entire range of mini-itx motherboards as well as regular boards. The PicoPSU-80 provides a cool, silent 80 Watts of power for small PC designs using a single 12V power source.

By using Patent Pending HyperWatt[TM] technologies , PicoPSU-80 packs an impressive amount of power relative with its very small footprint. PicoPSU-80 has several key advantages over traditional power supplies:

- Very small (even smaller than PicoPSU-120), can build unltra-compact PC enclosures and slim server enclosures.
- Fits any motherboard equipped with a 20 or 24pin ATX connector.
- 100% silent, fanless, no moving parts.
- Operates at only 12V.
- Highly efficient design, does not produce a lot of heat.
- Ideal for low power Intel D945GCLF2, D510MO, and as well as all VIA C7 or low power AMD motherboards.

Small computer projects start with small power supplies. PicoPSU-80 is a crucial key component that unleashes the ultimate power solution for general purpose computing platforms. PicoPSU-80 is fully ATX compliant PSU, making it an excellent candidate for any silent, fanless and small 12V DC-DC ATX PC power supply project.